NEET UG 2021 Crash Course
Mode

Teaching Languages

ENGLISH,TAMIL

Applicable Entrance Exams

NEET UG 2021,AIIMS,JIPMER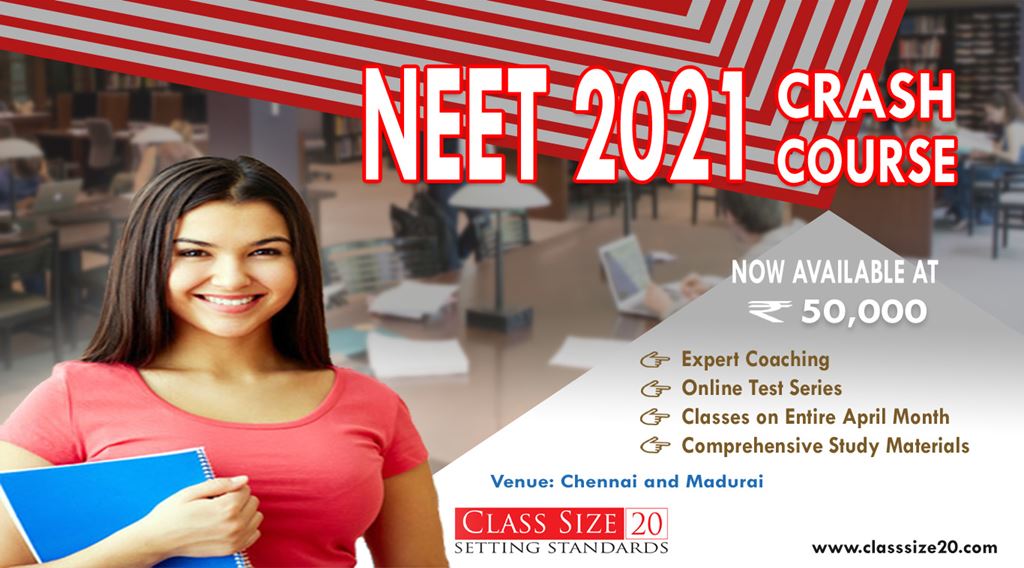 Introduction:
Get quality education and expert guidance for your toughest and quickest preparations. Just a few months left for the board examinations, your preparation should be in a full swing. Preparation basically covers everything you do to groom yourself for the examination – you attend your classes both academic and special coaching, scribble diagrams, work roughly around getting an equation correct. And, there are some who haven't started any preparation for NEET yet; but you are confident of board exam preparation, then this course is FOR YOU. Utilizing the time left efficiently, it aims at providing intensive training for NEET UG 2021.
CRACK NEET IN YOUR VERY FIRST ATTEMPT
Why NEET Crash Course?
We all know that the NEET UG entrance examination is scheduled to be conducted on May month every year. The duration of the examination is 3 Hours, that is 180 Minutes. It is almost time that you should have already completed your preparations for NEET UG 2021 by this time. Preparation basically covers the entire syllabus - For theory you must refer to NCERT text books as they cover the NEET syllabus most comprehensively. Additionally, you shall refer one or two books for each of the subject and practice MCQs.
If you are not being told anything before or do not have any idea about it then do not worry we have come up with a CRASH COURSE for NEET UG 2021. This crash course for NEET has been introduced by keeping in mind the need for all those students, who weren't able to take regular classes earlier but want to take NEET UG 2021 examination now.
NEET UG 2021 Crash Course
Duration
10 Hours (daily)
Who Shall Attend
TWELFTH Standard Students confident of getting 80 percent above in board exams are eligible to attend the NEET UG 2021 Crash Course.
Course Highlights
March 2021 to April 2021
Only Limited Seats are Available. Classroom coaching on the entire April month, with a predefined and well structured study plan by industry experts.
Comprehensive Study Materials
With well-structured study material prepared by Academic Research Scholars. This Course provides the largest possible coverage of CBSE, ICSE & Matriculation syllabi.
Food and Accomodation
Food and accomodation facility available for outstation students
Detailed Test Analysis
With our Advanced Test Analysis by our Board Evaluation Experts get an in-depth analysis on your strength, weaknesses, current preparation level and required overall improvement. Test Analysis and feedback also given on one to one basis.
One to One Doubt Clearing Sessions
Resolve all your doubts instantly with our experts immediately. Repeatedly revise all difficult concepts time and again for perfection.
Online Test Series
20 Sectional Tests and 10 Full Mock Tests, Practice questions, take online mock tests, analyze and understand the previous year question papers and patterns
Expert Coaching
We are a group of expert academic research scholars with vast teaching expertise. Our group consists of National Award & Board Evaluation teachers
Fees for NEET UG 2021 Crash Course is
₹ 50,000 /-
Hurry register now, only limited seats are available.
Please fill out the form
You shall use this form to register for the course - NEET UG 2021 Crash Course. Our representative will call within 24hrs to confirm your registration for the course. If you have any further queries, please call us on our help line numbers. Visit Contact Us page for more information.
We value your privacy. Your email address will not be published. All fields are required.
There is no curriculam information available for this course. Please contact us on +91 94999 53256 to know more.