NEET Repeaters Course
Mode

Teaching Languages

ENGLISH

Applicable Entrance Exams

NEET UG 2021,AIIMS,JIPMER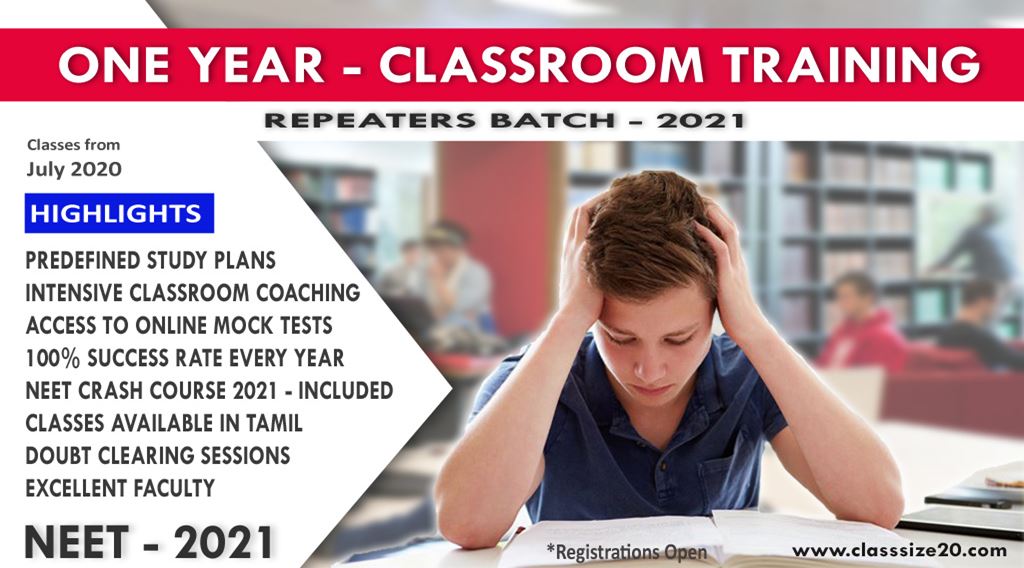 Introduction:
As the level of competition is very high in NEET, you need to be well prepared to appear in NEET in order to get a seat in one of the top medical colleges in India. If you haven't studied well in your Class XI and left so many things, it is better that you should start preparing on those at least now. If you are planning to appear in NEET 2021, then it is good time to start your preparations. Your performance yields better only if you prepare well for the examination and had done repeated practice. You are a twelfth standard State Board student, and you want to prepare for NEET UG 2021 next year OR You are a CBSE student, getting 60 to 70 marks in twelfth standard exams. Then, this course is for you BOTH.
NEET Repeaters Batch 2021 Batch classes starts from July.
Monday to Friday. 2 PM to 7 PM.
| | |
| --- | --- |
| | Clear NEET Entrance Examination to get NEET Seat or get your Money back. 100% Guaranteed Results. |
Neet Repeaters Course starts from July 2020. A well ahead of time to start preparing for your academic goals. Hurry Register Now, only limited seats are available.
Price is inclusive of Food and Accomodation facility for outstation students
Price shown above is inclusive of "Crash Course for NEET UG 2021". Crash Course for NEET UG 2021 is scheduled from March 2021 to Apr 2021.
CRACK NEET ACHIEVE YOUR DREAM TO BECOME A DOCTOR
What is NEET Repeaters Course?
We all know that the NEET UG entrance examination is scheduled to be conducted on May month every year. The duration of the examination is 3 Hours, that is 180 Minutes. It is almost time that you should have completed your preparations for NEET UG 2021 by this time itself. Preparations basically covers the entire syllabus - For theory you must refer to NCERT text books as they cover the NEET syllabus most comprehensively. Additionally, you shall refer one or two books for each of the subject and practice MCQs.
With just a few months left for the examination, your preparation for the examination should be in a full swing. Of course, there are some who doesn't started any preparations yet or doesn't even know how to kickoff and face it. It is advisable for those not to attend NEET 2020 - you shall prepare well and attend NEET 2021. Remember NEET syllabus includes only topics and concepts, it may come from any of your academic books (Class XI & XII) or even some other reference books as well.
This would take atleast few months for anyone to become competent and to master the chapters. Class Size 20 introduces NEET Repeaters Course for those who wish to prepare well for their ambitious career. This course aims at providing in depth knowledge on the subject, so that it will be a sure shot success.
Haven't started any preparation for NEET 2020 yet, but you are confident of board exam preparation to appear in NEET UG 2020 check out our crash course on NEET - NEET UG 2020 Crash Course
Who Shall Attend
TWELFTH STANDARD STUDENTS got seventy percent and above in the board exams are eligible to attend the NEET Repeaters Course 2021 (Full Year Repeater Course).
Course Highlights
July 2020 to April 2021
Round the year classroom training, with a predefined and well structured study plan by industry experts. You will get in depth knowledge on all the chapters and topics. Only Limited Seats are Available.
Comprehensive Study Materials
With well-structured study material prepared by Academic Research Scholars. This Course provides the largest possible coverage of CBSE, ICSE & Matriculation syllabi.
Food and Accomodation
Food and accomodation facility available for outstation students.
Detailed Test Analysis
With our Advanced Test Analysis by our Board Evaluation Experts get an in-depth analysis on your strength, weaknesses, current preparation level and required overall improvement. Test Analysis and feedback also given on one to one basis. 98 Chapters Tests, 10 Unit Tests, 10 Monthly Tests, 4 Quarterly Tests, 2 Half-Yearly Tests & 30 Final Tests.
One to One Doubt Clearing Sessions
Resolve all your doubts instantly with our experts immediately. Repeatedly revise all difficult concepts time and again for perfection.
Online Test Series
Practice questions, take online mock tests, analyze and understand the previous year question papers and patterns
Expert Coaching
We are a group of expert academic research scholars with vast teaching expertise. Our group consists of National Award & Board Evaluation teachers
Fees for NEET Repeaters Course is
₹ 2,00,000 /-
Hurry register now, only limited seats are available.
Please fill out the form
You shall use this form to register for the course - NEET Repeaters Course. Our representative will call within 24hrs to confirm your registration for the course. If you have any further queries, please call us on our help line numbers. Visit Contact Us page for more information.
We value your privacy. Your email address will not be published. All fields are required.
There is no curriculam information available for this course. Please contact us on +91 94999 53256 to know more.